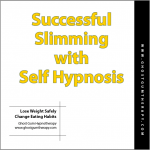 Only [product-price productid='1149′ format='£%.2f']
Successful Slimming with Self Hypnosis will help you to change your eating habits safely and naturally, so that you not only lose weight, but keep it off. Using a combination of visualisation and advanced hypnotic language, you will change the way you feel about yourself by focusing on how you will look when you have achieved your goal.
Reprogram your eating habits
Lose weight at a safe and natural rate
Advanced 20 minute programme for convenient listening
Deeply relaxing
Binaural beat technology to help your mind reach deep relaxation quickly
Produced by professional Hypnotherapists, Rob & Heidi Woodgate
60 Day Money Back Guarantee
This advanced programme includes binaural beats, which will help you reach those deeply relaxed and creative states of mind more quickly, making our weight loss hypnosis mp3 so much more effective and easier to use.
As with all hypnosis products, you should never use this product whilst driving or operating machinery, or if you suffer from epliepsy. If in doubt, please consult your doctor.